Long-Term Care State Legislation
Select a state below to begin
Long-Term Care State Legislation
Select a state below to begin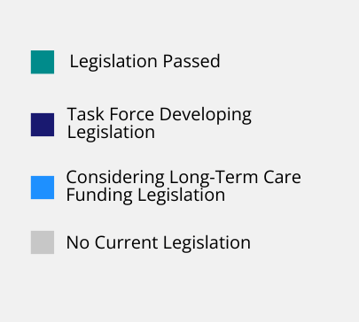 Stay up to date with the legislative actions taken at the state level.
With all of the swirling news regarding the Long-Term Care legislation, we'll make sure the content you receive is "matter of fact" and authored by our industry experts. As additional news breaks, this website will automatically refresh.
Disclaimer: Material provisions to all House and Senate Bills are subject to future rule making and regulatory recommendations by State Legislature and members of any appointed Commission. The content above is an interpreted summary based on the best available information at the time of publication. It is not to be used as financial, legal, or tax advice. Changes to the proposed Bills are anticipated throughout and after the financial feasibility study. Refer to the State website and other official state resources for updated details.